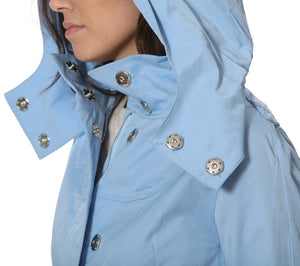 Guaranteed Weather.
Guaranteed Compliments.
Don't Let Life
Rain on Your Parade
Ciao Milano is a worldwide company producing a collection of the finest quality and most fashionable jackets and outerwear you will find in any store or website available.
We guarantee not only will you feel extravagant, but that it is impossible to wear our collection without receiving a compliment. We believe that putting on a coat or jacket in rain, cold, wind, or snow should not be a burden, but an enjoyable excuse to wear your favorite outwear rain jacket or raincoat or down coat.
Current Stand Outs
Sold only in the finest boutiques Internationally

Lightweight, Warmth & Breathable
Not all down jackets and coats are the same. There are three fundamental features for assessing the quality of a down product. Source, species and composition. You will notice that the majority of down jackets and coats that are on sale, at least one of the above features is omitted. In addition, the design of a down product is extremely important in maintaining and keeping in the body heat when wearing. The tighter the fit the warmer you will be. Exclusive anti zipper catching feature. Seven stitches are sewn on the placket to keep the the teeth of the zipper from catching the fabric when zipping up for a snug fit.
Water & Wrinkle Resistant
Synthetics like polyester, nylon, acrylic, and olefin have a natural resistance to wrinkles and greater stability since they do not absorb water as efficiently.
Four-way stretch, breathable tech fleece fabric is water repellent without sacrificing comfort.
Waterproof & Breathable
Most 100% waterproof fabrics have a stiff rubber feel and are not breathable. 
This exclusive fabric has been developed by Ciao Milano. Soft durable flowing fabric that is not only 100% waterproof but extremely rich looking. It imitates a designer Italian high quality glove leather look.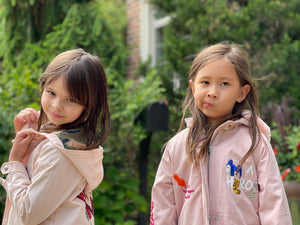 Be Ready No Matter What Life Brings
The Right Outwear at the Right Time for the Right Weather
Product Care
At Ciao Milano, we designed our coats, jackets and accessories to be durable and easy to care for, so they work with you. Each product is carefully designed to be breathable, light-weight and wrinkle-free.
Best results for washing rain jackets and down items: Enclose your item in a pillow case and tie the end of the pillow case in a knot. Delicate wash cold water. Put pillow case and tumble dry. Dry clean or hand wash, line dry.
Frequently Asked Questions
Our jackets size chart is listed on every product page but please refer to the sizes below. If you are still unsure, feel free to give us a call at 646-546-522 or email us at customerservice@ciaomilanofashion.com
XS: 0-2
S: 2-4
M: 6-8
L: 10-12
XL: 12-14
*Depending on bust size could go up one size.
Are all of your products water-resistant?
Yes, all of our products are water-resistant
Do your puffer coats and jackets contain real down feathers?
Most of our puffer coats and jackets contain duck or goose down, with a combination of a micro tech polyester allergy-free filing- meant for extremely cold climates.
How do I know my product is authentic?
There are many companies, especially Chinese companies using the Ciao Milano name for other products like dresses and printed tops. We ONLY produce outerwear and children's wear. We also do NOT distribute through any websites such as Neiman Marcus, Last Call, Zappos, Amazon, or other lower-quality sites. Beware of low-quality copies of Ciao Milano and other products using our name. If you have a doubt please contact us.
Are Ciao Milano products sold in-stores?
If you wish to purchase Ciao Milano jackets in person, contact us and we will be happy to provide you with a store nearest you. Please provide us with the name of your town or zip code.
How do I place an order?
Simply select the size and color of the jackets you wish to order and add them to the cart. You can either continue shopping or click checkout to complete your purchase.
My order is not being accepted. Why?
Sometimes there may be connectivity or other technical issues. If this occurs, feel free to email us customerservice@ciaomilanofashion.com or call us at 646-546-5226. We are open Monday – Friday, 9 am – 5 pm, excluding major holidays.
Can I cancel my order?
Orders cannot be canceled after they have been submitted but if you wish to cancel the order please contact us and we will refund your money before shipping.
Do you have seasonal sales?
Depending on holiday or promotion we are always offering our customers discounts on selected jackets and items. Please make sure you are on our email list to receive these promotions.
Why isn't my coupon code working?
Coupon codes cannot be combined and sometimes certain jackets and items are excluded from the sale. Please check your cart to be sure. If you are still experiencing issues feel free to contact us.
What shipping options do you offer?
We offer shipping to the USA via UPS only. Please check our rates for express shipping. Rates are based on weight and location. We also ship internationally using USPS First Class Mail.
Where do you ship to?
Ciao Milano ships anywhere in the United States and Internationally. For orders outside the US, we cannot guarantee that you will or will not be charged any customs taxes or duties. Any customs or import duties are charged once the parcel reaches its destination country. These charges must be paid by the recipient of the parcel.
Do you ship to P.O Boxes?
Unfortunately, we cannot ship jackets to P.O boxes at this time
How do I track my shipping?
When your order is shipped you will have a tracking number sent to the email that you have provided. You may go to UPS.com to track your package.
How do I return an item I bought online?
Every product on our site is "satisfaction guaranteed" and may be returned for a full refund within 60 days of the delivery date as long as all tags are returned with your item. A UPS return label will be supplied upon request and sent to your email. Click here to send us a return request.
After 60 days you will need special permission to return an item and exchanges may be authorized. A UPS return label will be supplied. Please UPS for all returns.
After 60 days you will need special permission to return any jackets and exchanges may be authorized. A UPS return label will be supplied. Please UPS for all returns.
How long will it take for my refund to appear?
Please allow 1 – 4 days from the time we receive the returned item to see your refund
How do I exchange an item?
To exchange an item you purchased please send us an email by clicking here. Include exchange in your subject line.
What payment methods do you accept?
Currently, we accept Visa, Mastercard, and Amex. We also accept PayPal. We do not accept money orders, personal checks, or bank transfers.
What currencies do you accept?
We currently only accept US dollars. However, if you place an order from outside the US the exact exchange rate that you will pay is determined by the bank that has issued your credit card. In general, it will match closely with the going exchange rates. The following web page features a quick up-to-the-minute exchange rate: xe.com
When will my card be charged?
Your card will be charged at check out
Can I use multiple methods of payment?
Currently, we only accept 1 payment method.
Let customers speak for us